I love the way the house looks after clearing out Christmas decorations, piles of new toys and new clothes, and clearing away bags and bags and bags of wrapping paper. It looks a bit like a blank slate, ready for a new year. I think that's why I always feel energized and ready to tackle major organizing challenges come January - Or maybe it's just the great sales on organizing supplies!
This year, I've decided to join a blog organizing party to help keep me motivated and on task. Bonus: This one has some super great prizes!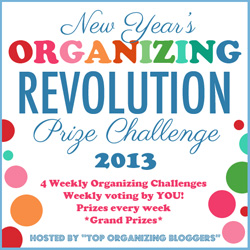 Over the next 4 weeks, I plan to organize my Office Space, Kitchen, Closet, and Family/Playroom. Hopefully, I can get Neil excited to help as well, as that last one involves finishing putting up some sheetrock and doing some painting. *whew!*
You can do it too! You can join the Organizing Challenge without a blog - you just need to set up a new Pinterest Board. Here's a guide on how to set one up for this link party:
http://organizingmadefun.blogspot.com/2012/12/how-to-link-up-your-post-to-pinterest.html
I look forward to a fun challenge!